| | |
| --- | --- |
| 1 hour | 4 € |
| 2 hours | 6 € |
| 3 hours | 7 € |
| 4 hours | 8 € |
| 5 hours | 9 € |
| | |
| --- | --- |
| 6 hours | 10 € |
| 7 hours | 11 € |
| 8 hours | 12 € |
| 24 hours | 15 € |
| extra day | 7 € |
We offer a range of bicycle types, as well as locks and child seats, all included in the rental price.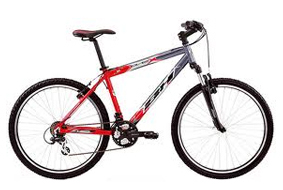 At La Cicleria we have a large fleet of bicycles for you and your group to visit Zaragoza in an original way.
In addition, we can bring the bikes wherever you need them and take extra safety on the road with our guide and mechanical service on route.
If you are organizing a school, professional or leisure trip to Zaragoza, contact us.
Bike fleet rental (10 to 20 bicycles)
Half day
5,75€/each
Full day
7,5 €/each
Bike fleet rental (21 to 35 bicycles)
Half day
5,25€/each
Full day
6,9€ €/each
An extra fee of 30€ is charged if you need the bikes at a point placed at 20 kms from 4 Bubierca Street.
If you need more bikes or transportation, contact us directly.
Clients renting bicycles from La Ciclería , Calle Gavín 6, 50001, Zaragoza, must adhere to the following terms and conditions.
The person renting the bicycle must be over 18 years of age.

Bikes are rented and returned to the above address only.

On renting their bicycle, clients are required to leave a deposit of €50 per bike, which will be reimbursed on return of the bicycle.

Bicycles are rented with locks, at no extra cost.

All material is provided by La Ciclería in perfect condition, and must

be returned as such.
The client is obliged to take all reasonable

measures to avoid damage, loss or theft of the rented material.

Should any of the above occur during the rental period, the client

is responsible for any and all costs assumed (market price). These

include incidents attributable to accidents or force

majeure.

At the end of the rental period, a representative of La Ciclería will assess if the bike has been damaged and the amount of such damages.

La

Ciclería takes no responsibility for personal or other types of

injury caused by the use of the rented material. It is the complete

responsibility of the client to respect Spanish traffic regulations

and to have adequate insurance coverage for the risks associated

with the use of a bicycle.
This contract is in accordance with Spanish law.